Care Facts
U and I Care Facts is an initiative from the Office of the Dean of Students that is focused on providing you with weekly information on many topics including, exercise, healthy eating, self-compassion, stress and resilience, social connection, time management and more. Care Facts will be updated weekly and will contain tips and resources you can access to promote your success at UIC!
Summer 2021 Care Facts
Check out all the upcoming Care Facts for this semester!
Emergency Broadband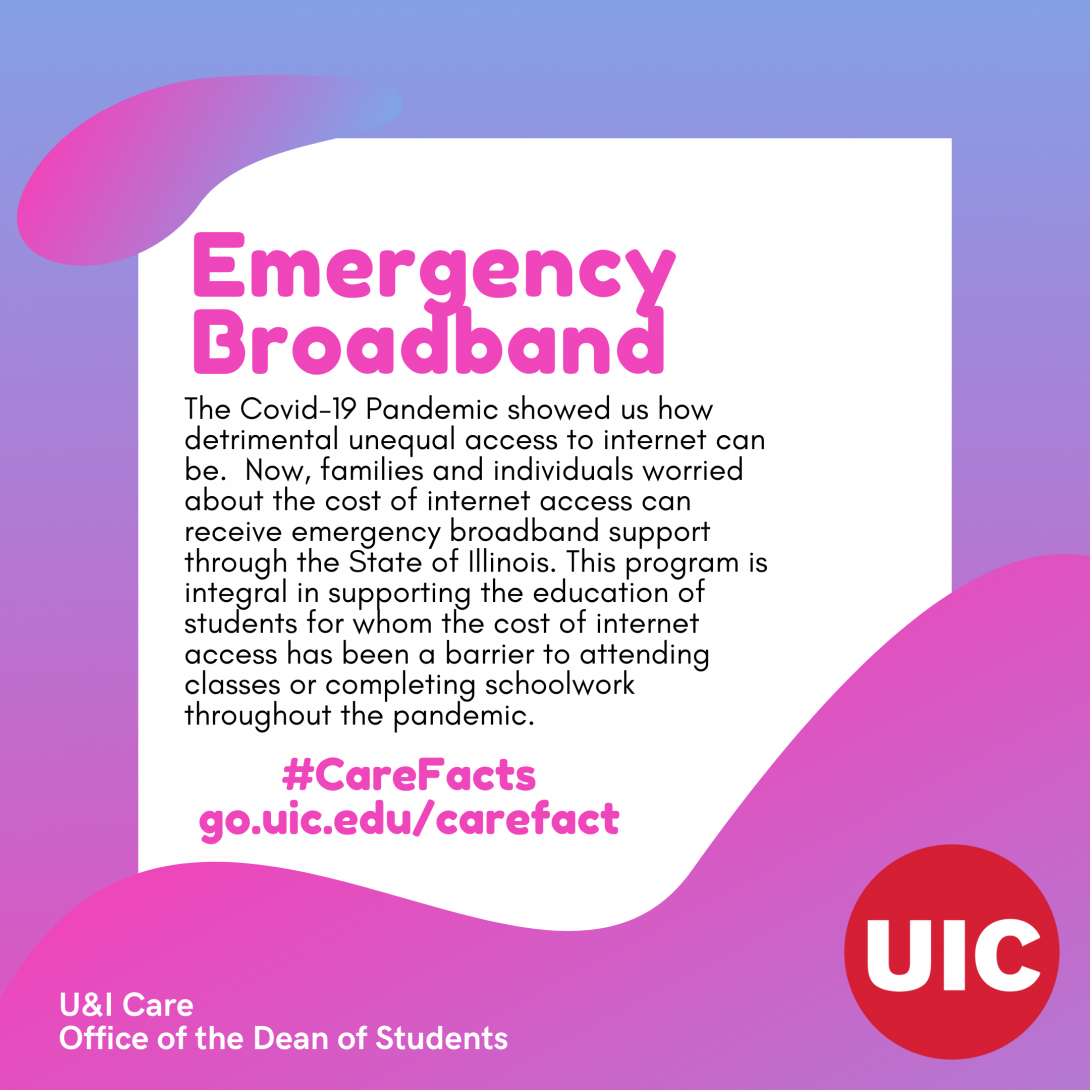 The Covid-19 Pandemic showed the detrimental effects of inequitable access to internet can be for the wellbeing and education of Illinoisans. With so much of everyday life now being conducted through the internet, it is essential for everyone to have equitable access to the internet, regardless of their income level.  Illinoisans now have access to affordable internet through the Federal Communications Commission's (FCC) Emergency Broadband Benefit (EBB) program. The program utilizes federal COVID-19 relief funding to provide eligible households discounts of up to $50 a month on home internet service, making the service more affordable and accessible for qualifying low-income families. The program also offers a $100 discount towards the purchase of a laptop, computer or tablet from a participating provider.
Academic Support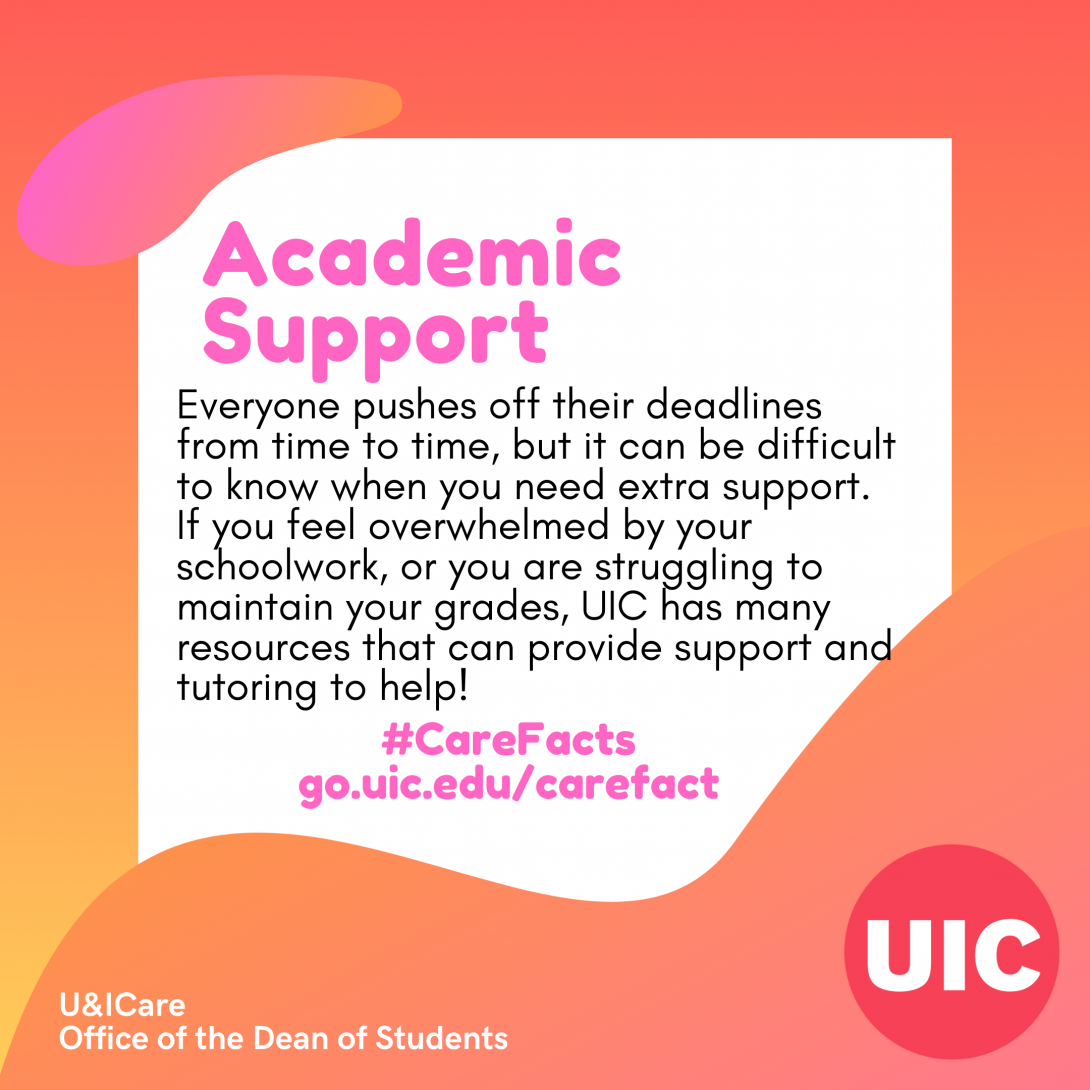 Academic support is widely available to UIC Students through a variety of campus offices.  Everyone gets distracted or postpones things from time to time, but sometimes school can feel more overwhelming than healthy levels of stress.  If you have experienced difficultly concentrating for days or weeks at a time, or if your grades have slipped, you may need more help. Academic support services at UIC can help you practice the skills you need to succeed in the long term, and not just pass your class. There are many tutoring services on campus to help you with academics. If you feel you might have a learning disability or need help with stress management, the campus also has support for you.  Remember that getting a great education means having a great team, and we are here to help you.
Employment Support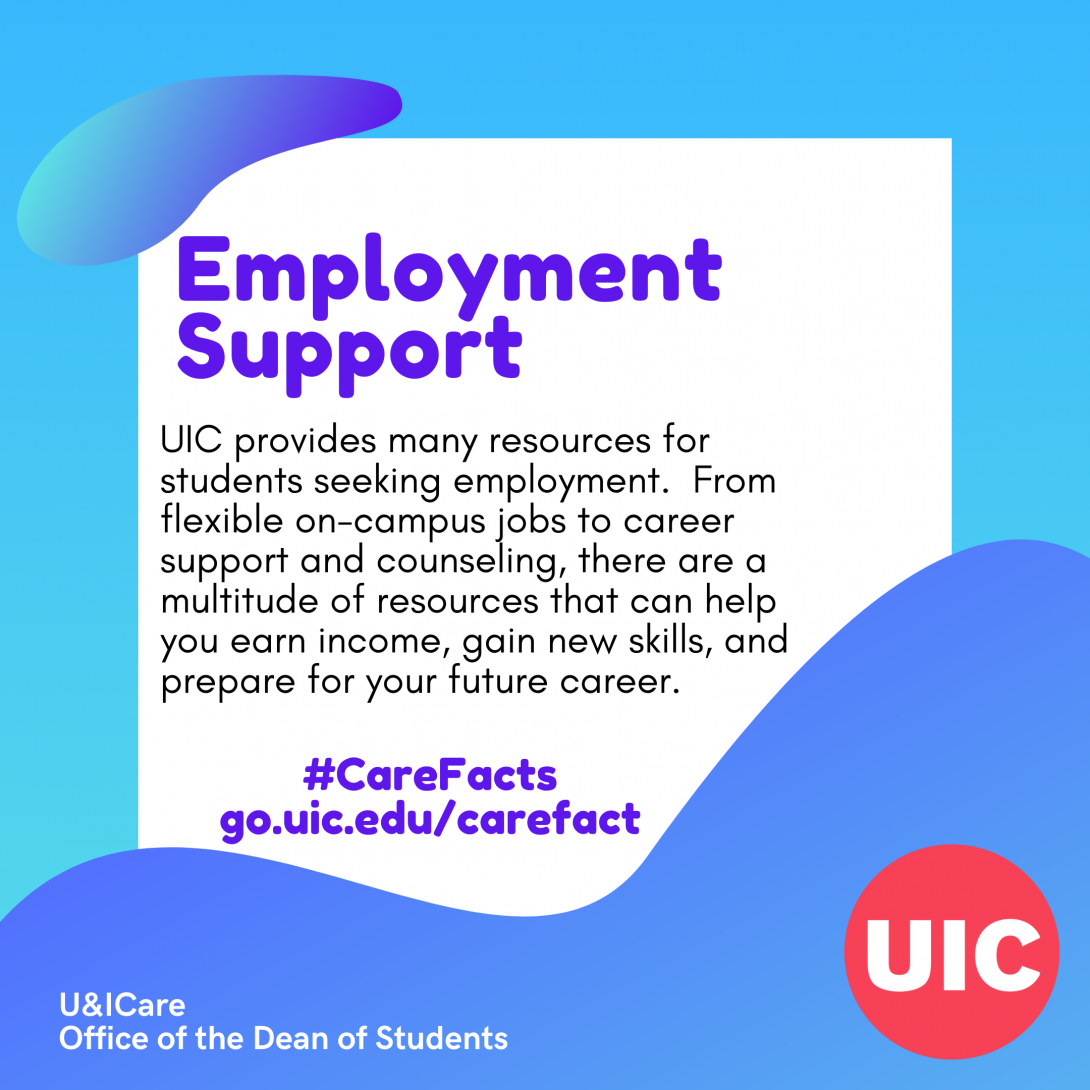 Working on campus can be a great way to earn income while in school and develop skills that you will use throughout your life. The UIC Office of Student Employment provides job opportunities and advice for students on and off campus, and is now available through UIC Handshake! They also provide virtual job counseling, and are committed to providing meaningful work experiences to UIC students.  Beyond the campus, the UIC Career Services Center offers career advice and counseling for your post-college needs.  As you venture off campus, they want to make sure you are ready to showcase your best self to the job market, and provide advice on resumes, interviews, and career opportunities.
Caring for the Environment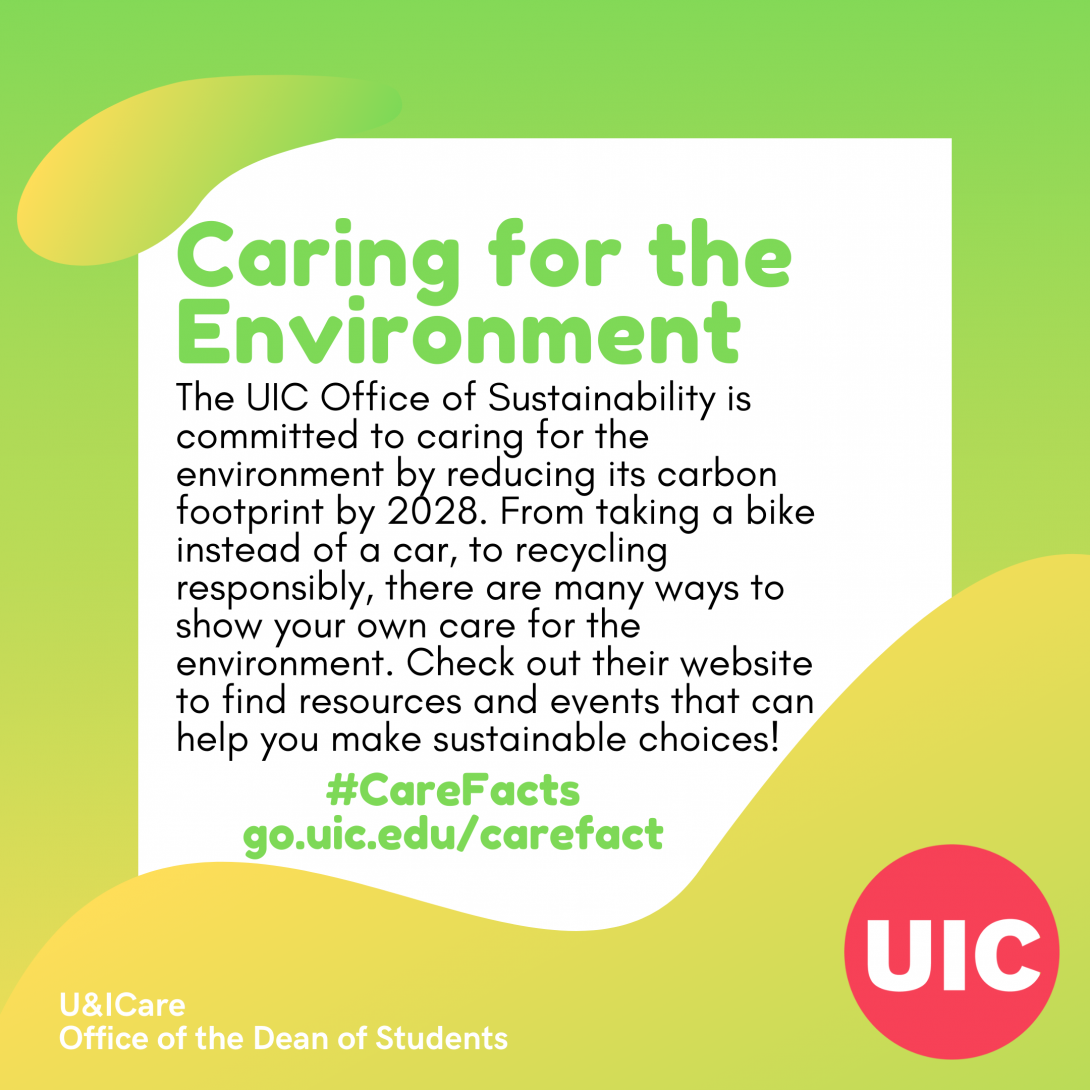 Our environment is a precious gift. Throughout our city there are many people and organizations working tirelessly to protect our environment and fix our unsustainable lifestyle. Our campus has a commitment to reducing our carbon footprint to become a carbon-neutral campus by 2050.  Already, the Office of Planning, Sustainability, & Project Management provides many opportunities for students to promote a greener campus, from being an eco-educator, to providing funding for small sustainability projects to students.  There are many things you can do to help, including using the recycling bins around campus, or taking bicycles to class. Protecting our earth does not stop on campus, neighborhood organizations and the City of Chicago also provide many ideas and resources for promoting a more sustainability Chicago.
Adjusting to Campus Life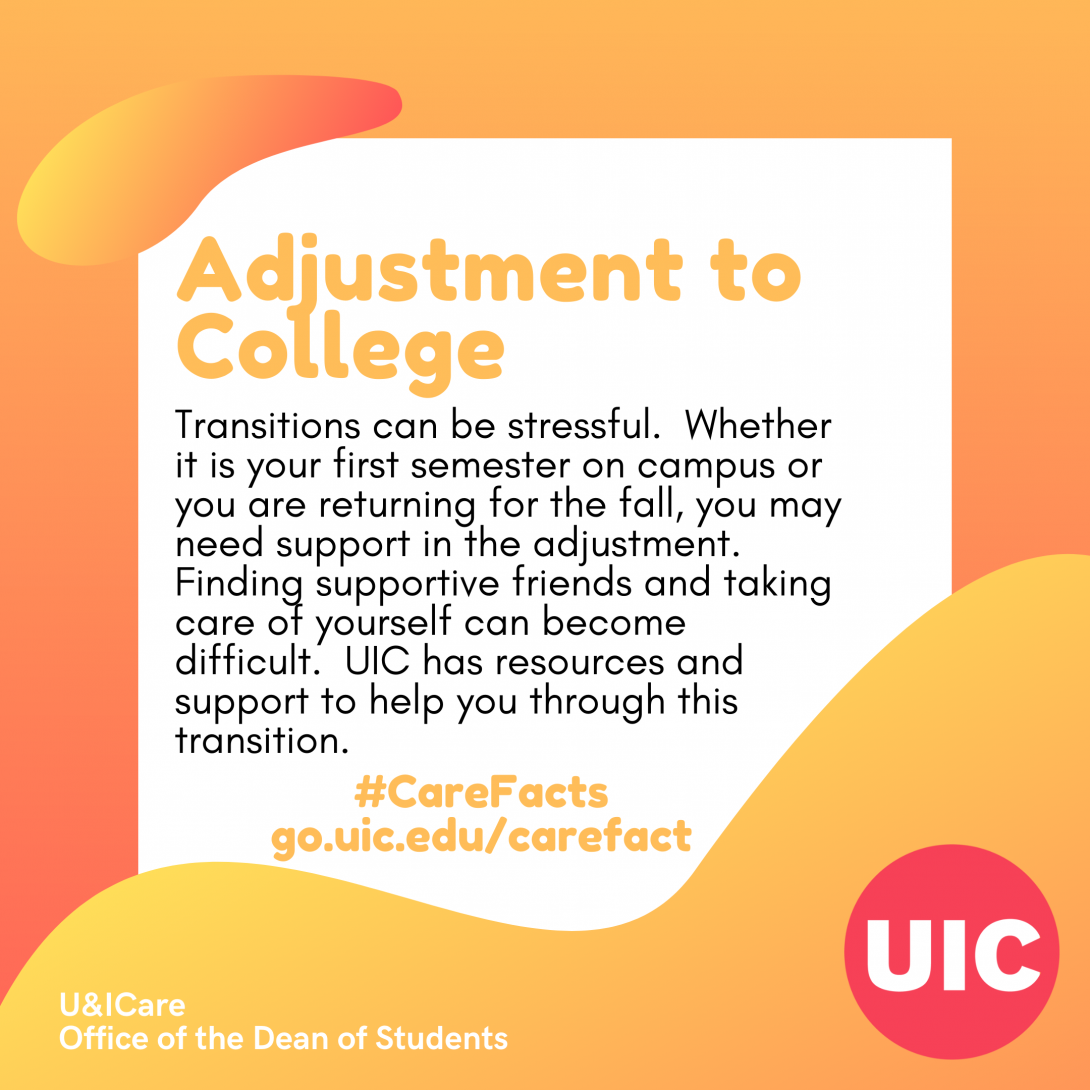 Whether you are just beginning at UIC or are back for your final semester, the transition from summer to fall can be a difficult adjustment. Starting the year can bring a mix of emotions. You might feel excitement, but also some feelings of loneliness or anxiety about what's ahead. Take some time to look into the various success units that UIC has to offer such as Peer Success Coaching or the Office of First Year Initiatives. It's important to start off with a good self-care routine, which includes healthy eating, exercise, and healthy stress management.  Find resources that can support your mental health during this transition at the UIC Wellness Center The UIC Counseling Center, UIC InTouch Crisis & Support Hotline, and the Office of the Dean of Students are also here to help you. Finally, try to find small ways to start the year off right – just a bit of exercise, stretching, talking to supportive friends, and a few nutritious meals a week—can all add up to healthy and successful semester!