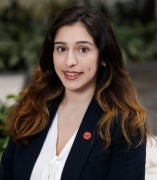 Cynthia Rosales
Student Assistance Coordinator
Contact
Office Phone:
Email:
About
Cynthia M. Rosales is currently serving as the Student Assistance Coordinator within the Office of the Dean of Students at UIC. She assists with a variety of student cases within the Student Assistance department of the office, exploring the options available to students experiencing personal and/or academic challenges. She coordinates efforts of the U and I Care Program, an initiative to provide a network of care to UIC students by connecting them to a variety of resources on and off campus. Cynthia also coordinates the UIC Student Elections for the undergraduate student government, student trustee, and student senate positions. Cynthia is a trained Confidential Advisor in accordance with Illinois' Preventing Sexual Violence in Higher Education Act.
Cynthia received a B.A in Psychology at UIC. Prior to graduating, Cynthia worked as an office assistant in the Office of the Dean of Students. This is where she began to work closely within the Student Assistance department developing valuable skills and a passion for helping students succeed.
Outside of UIC, Cynthia enjoys meal prepping for the week, and having many Harry Potter movie weekends at home.