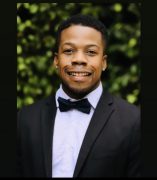 Dre Parker
Associate Director of Community Standards
Contact
Office Phone:
Email:
About
Dre Parker is the Associate Director for Community Standards at the University of Illinois at Chicago. As the Associate Director, he directs and implements educational programs and services related to academic integrity and student mediation. In addition, interpret and inform the university community regarding policies and procedures related to academic integrity, student mediation, and community standards.
Prior to his arrival at UIC, Dre served as the Senior Student Affairs Coordinator – Diversity & Inclusion at AMDA College of the Performing Arts in Los Angeles, and has served in Student Affairs leadership roles at California State University – Fullerton, Arizona State University, and Southern Illinois University Carbondale.
A two time graduate of Southern Illinois University Carbondale, Dre earned his Bachelor of Arts degree in English and Master of Science degree in Higher Education.
In Dre's spare time, he enjoys spending quality time with family and friends, traveling, and attending festivals.