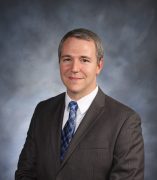 Keith Ellis
Visiting Assistant Dean of Students
Contact
Office Phone:
Email:
About
Keith Ellis is currently serving as the Visiting Assistant Dean of Students at UIC. In this role, Keith works with students engaged in the student conduct process to uphold the Community Standards of UIC.
Prior to coming to UIC, Keith gained experience in Residence Life, Campus Housing, Fraternity and Sorority Life, Behavioral Intervention, and Title IX response at the University of South Carolina. Keith has also worked in Fraternity and Sorority Life, Student Leadership and Student Activities at the University of Kentucky.
Keith received his Ph.D. in Educational Policy Evaluation from the University of Kentucky, his Master's Degree in Higher Education Administration from the University of Kansas, and his B.A. in Philosophy from the University of Memphis.
Outside of work Keith enjoys spending time with his wife and daughter, engaging in regular fitness, fellowship and faith activities with F3, training for endurance events such as marathons, triathlons, and running relays, and cheering on his favorite sports teams.