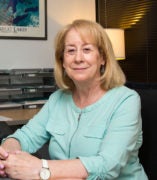 Linda Deanna
Associate Vice Chancellor for Student Affairs/Dean of Students
Dean of Students
Contact
Office Phone:
Email:
About
Linda Deanna is currently serving as the Associate Vice Chancellor for Student Affairs/Dean of Students at UIC. She has been at UIC since 2001 and enjoys working at this vibrant and diverse institution. She has stated, "UIC students are the best and it is an honor to serve as the Dean of Students at UIC".
Her current responsibilities include overseeing several areas in Student Affairs: Career Center, Student Employment, Counseling Center, and Wellness Center. In addition she is responsible for several functional areas in the Office of the Dean of Students including Student Assistance, Community Standards, Student Veterans, and Student Legal Services.
Prior to her arrival at UIC, Linda worked as Ombudsperson at Pepperdine University, Complex Coordinator at Bowling Green State University, Student Affairs Coordinator at the University of Wisconsin-Madison, and Dean of Student Life at Loyola University Chicago.
Linda received her B.A. in History/Spanish from the University of Detroit-Mercy. Her graduate work includes an M.S. in Education from the University of Southern California and a Ph.D in Higher Education from Loyola University in Chicago.
Her outside interests include spending quality time with family and friends, hosting and entertaining, cooking, traveling, and cheering for her favorite sports teams.