Mar
4
2019
U and I Care Week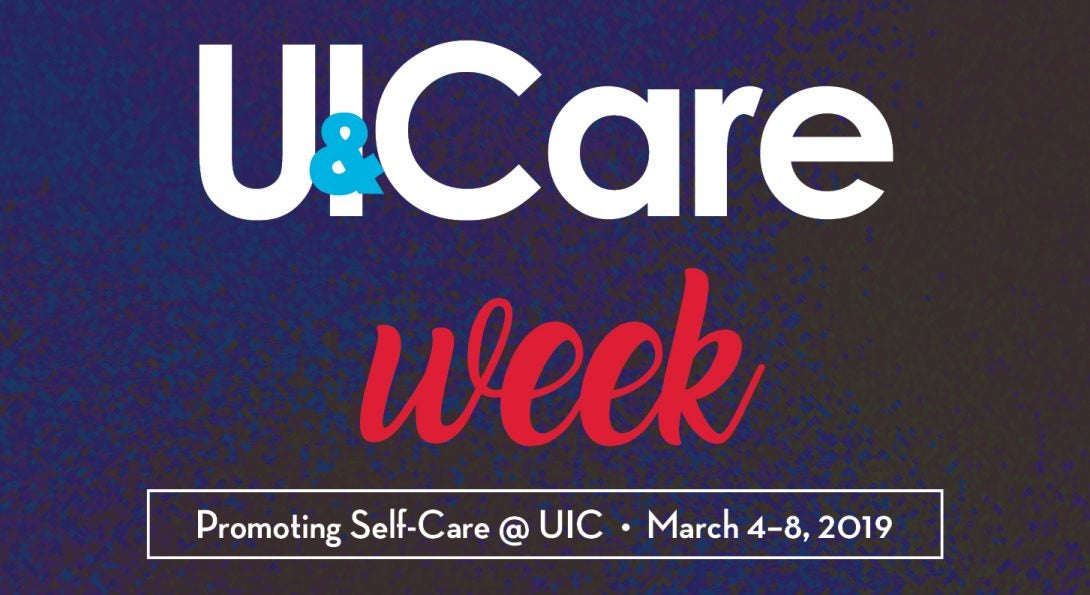 A week full of events for students, faculty and staff that highlight specific areas of student support, bring awareness to resources on campus, and an opportunity to work with our campus partners to create options for student assistance. This year, we will be focusing on the topic of self–care and highlighting our campus partners that have some really great ways to care for yourself while on and off campus!
Monday, March 4th, 2019 "Kick Off Resource Fair" SCE Concourse 11am-1pm
Let's kick off our 2nd annual U and I Care Week by learning about some of the great resources UIC has to offer. Join a few of our U and I Care Partners at the SCE Concourse to participate in self-care activities, learn about their resources, and get some free swag!
Tuesday, March 5th, 2019
"Not Alone: A night of mental health storytelling" Disability Cultural Center (DCC) at 6pm
 Members of the UIC community will come together to engage in the powerful practice of storytelling. Experiencing poor mental health or mental illness can be so isolating— but we can push back on this isolation by coming together and sharing our experiences. Participants should bring a story, piece of writing, poem, etc to share. If you're not in a place where writing your own will work for you, feel free to bring a piece that you relate to and share it!
"Spring Break Knowledge/Flames Igniting Peace Pledge" SCE Illinois Room C at 6pm-7:30pm
For FSL Students only: Join us in a roundtable educational session where The Wellness Center will unite Fraternity and Sorority Life (FSL) brothers and sisters in greater understanding, knowledge, and skill-building for healthy decision-making on alcohol consumption in advance of the university spring break.  We will highlight the FSL pillar of fellowship focal point for the care we provide to one another during any planned events/trips, and we will conclude by committing to the university's peace pledge in solidarity.
Wednesday, March 6th, 2019 "Coffee with U and I Care" Commuter Student Resource Center (CSRC) at 8:30am and a second location at Student Center West (SCW) at 11am
Join us for Coffee and donuts bright and early before or in-between classes to hang out and learn more about the efforts of U and I Care!
Thursday, March 7th, 2019 "Advisor Self-Care: Small things can make big change!" University Hall (UH) 2722 from 9am-4:30pm with special lunch event from 12pm-1pm in room 2550.
For Advising Department only: With the day to day function advisors conduct each semester, taking a bit of a break and focusing on relaxation and mindfulness can go a long way! The Office for Advising Development will be hosting an event for advisors to take some time during the day to promote their own self-care with many fun activities and snacks! Visit OAD website for more information.
Friday, March 8th, 2019 "Belli's Juicebar" Latino Cultural Center (LCC) at 11am to 1pm
Been wanting to try a cold pressed juice that is 100% raw, organic and locally-sourced? Now is your chance! Belli's Juicebar is a local business, offering healthy, fresh food and juice in the Pilsen neighborhood, founded by UIC alumna. https://www.bellischicago.com/
All Week
Keep an eye out for self-care programs popping up around the residence halls this week!
Be sure to check out the drop-in fitness classes happening all week at the Student Recreation Facility (SRF) on east campus and the Sports & Fitness Center (SFC) on west! Click here for a full schedule.
Date updated
Feb 26, 2019